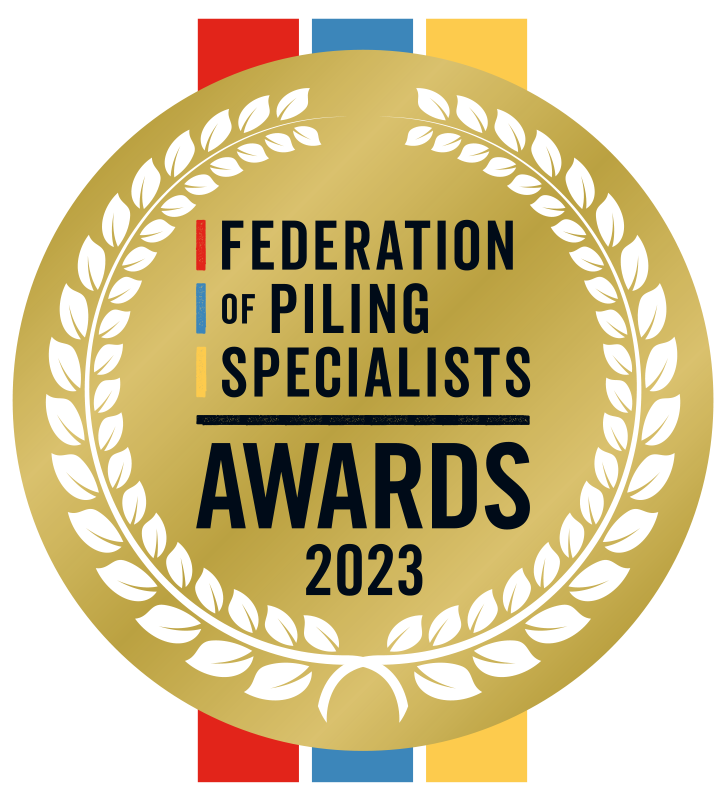 The Federation of Piling Specialists is pleased to announce that registration is now open for its 2023 Awards.
Being held Friday, 13 October, from 6.30pm – 2am, at the luxury JW Marriot Grosvenor House Hotel, the FPS Awards brings together the best of the sector, to celebrate the outstanding achievements of individuals and companies within the ground engineering industry.
Attendees to the event will be greeted with a Prosecco and canapé drinks reception, before enjoying a three-course meal in the hotel's Art Deco-inspired ballroom. The event will be hosted by FPS Chair, John Chick, alongside Simon Evans, one of the UK's most respected comedians.
Full members of the FPS have pre-paid for six tickets, as part of their company's membership subscription, and associate members have pre-paid for two tickets. Additional tickets cost just £175 for FPS members, and £200 for non-members (including VAT), and are available to FPS members, associate members, clients, partners, and sponsors.
To register your attendance, please complete the registration form and return it to: fps@fps.org.uk – by the deadline Thursday 28th September 2023.
Registration forms received after this date will not be accepted.
SPONSORS
Cleveland Steel
Supplying the piling industry with steel pipe since 1974. Circular Economy pioneers with steel reuse at its heart. Cleveland Steel combines the UK's largest steel pipe stock with unrivalled in-house processing facilities so that you; Reduce Carbon. Reduce Material Costs. Reduce Leadtime.
Barker Ross
Barker Ross Recruitment is an unrivalled specialist agency working within the Piling and Ground Engineering Sector. We have an enviable reputation and partner with our clients to provide the highest quality workforce. We pride ourselves in our extensive knowledge and capabilities to support some of the largest projects in the UK and internationally.
Cementation Skanska
Cementation Skanska is an internationally recognised specialist piling and ground engineering subcontractor. We offer technical innovation and expertise in all aspects of geotechnical engineering, from specialist grouting and micro piling to diaphragm walling, and provide solutions covering everything from design and estimating, to completing the work on the ground.
Bauer Equipment
BAUER Equipment UK Ltd are the U.K & Ireland subsidiary of deep foundation equipment manufacturer BAUER Maschinen GmbH, the first name in electrified drilling equipment technology. Providing sales, aftersales service, and technical support to all UK & Ireland geotechnical, geothermal and tunnelling contractors. We are also proud UK representatives for Klemm Bohrtechnik GmbH and BAUER MAT Slurry Handling Systems GmbH.
Liebherr
Liebherr is an innovator of construction machines including our LB, LRB and LRH drilling and piling rigs. As a market leader for electrification of our construction machinery portfolio, our Unplugged range of crawler cranes and rigs provides a zero-emission alternative without any limitations, or performance reduction vs conventional diesel-powered machines. We continue our commitment to zero emission development, launching new models to market throughout 2023 and beyond.
www.liebherr.com/en/deu/products/construction-machines/deep-foundation/deep-foundation.html
Keller
Keller UK is part of the world's largest geotechnical solutions specialist. We combine our global strength with local focus to respond to clients' needs by offering a range of cost-effective ground engineering solutions across all sectors of the construction industry.
Vibro Menard
Vibro Menard is part of a global ground improvement specialist. We offer a broad range of ground improvement techniques across a wide range of soil types. Combined with innovative designs we can provide practical and sustainable solutions which are cost effective.
Casagrande UK
Casagrande UK are the exclusive dealer to the UK market for new foundation machines from the Casagrande Group and other globally renowned manufacturers of construction equipment, including: HÜtte, Eurodrill, HD Engineering, STA and Lumesa Drilling Technology. Casagrande Group is a world-leading manufacturer, producing large-diameter piling machines, diaphragm wall equipment, small-diameter drilling rigs, tunnelling machines, grouting plants & pumps and hydraulic crawler cranes.
F Brazil Reinforcements
Founded in 2007, F Brazil Reinforcements has become one of the UK's largest manufacturers of prefabricated pile and diaphragm wall cages. First operating out of our head office in Canvey Island in Essex, in 2021 this operation was expanded by the acquisition of a new production facility in Burton-on-Trent.
www.fbrazilreinforcements.co.uk/
Acero Construction
An approved supplier to piling and construction companies across the UK, Acero Construction provides the following services: guide wall construction, skilled piling operatives, steel fixers and mobile welding services to many industry-leading clients. Acero responds quickly to your requirements, providing flexible, tailored labour support to cover any skill and discipline.
Total Construction Supplies
Total Group are the leading British manufacturer and supplier of steel reinforcement and building accessories situated in the heart of the West Midlands. Having grown significantly since its establishment over 20 years ago, the company has become a highly regarded, recognised producer of reinforcement steel to the UK construction industry. The company has built its reputation through the supply of high-quality, British-made products and a completely dependable customer service.
Connect Construction
Connect Construction, a company specialised in Guide walls and ground works. Our team consists of carpenters, steel fixers and concrete specialists. Whether you require guide walls, capping beams, concrete slabs, retaining walls, or hoardings, contact us and we will respond within 24 hours with a quote.
https://connect-construction.co.uk/
Obsidyan
Obsidyan is a consultancy that offers expert, valuable advice and quantity surveying, contract and dispute support services to specialist contractors. Obsidyan has significant experience in the piling industry and understands the risks and challenges faced on the ground. This makes it the natural choice for piling contractors.
AGD Equipment 
AGD Equipment Limited is a family-owned company specialising in the rental and sales of crawler cranes, piling rigs and associated equipment. We focus on servicing the construction, civil engineering, sheet piling, bored piling, driven piling, ground improvement and ground engineering industries both in the UK and worldwide.