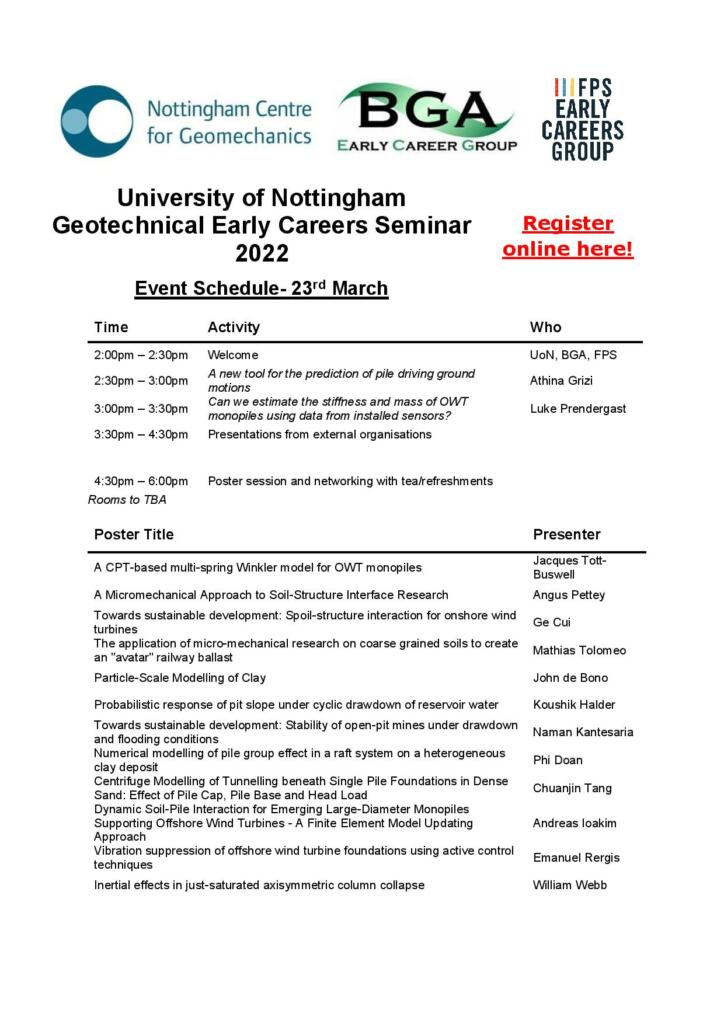 The British Geotechnical Association (BGA) and Federation of Piling Specialists (FPS) Early Careers Groups (ECG) are hosting a geotechnical seminar with the University of Nottingham.
The event, being held 23 March 2022, will consist of university presentations on their current research, presentations from external organisations and a poster and networking session.
The event commences at 2pm, with a welcome from all three organisations, followed by presentations:
2:30pm – 3:00pm "A new tool for the prediction of pile driving ground motions" by Athina Grizi
3:00pm – 3:30pm "Can we estimate the stiffness and mass of OWT monopiles using data from installed sensors?" by Luke Prendergast
3:30pm – 4:30pm Presentations from various external organisations
4:30pm – 6:00pm Poster session and networking with tea/refreshments
The event is designed to engage with early career members and university students/graduates, as well as post-doctoral students, and will be the perfect opportunity for attendees to understand the research in academia from Nottingham, highlight the work contractors/consultants are involved in and act as a base for networking and recruitment.
The ECG would also like to hear from FPS member and associate member companies that want to get involved in supporting the event. Specifically, the ECG is looking for companies that would like to present about any new advancing technologies they are working on, or any interesting case studies they have been involved in. The ECG would also like to hear from companies that want a stand at the event, where attendees can enquire about the company, perhaps for recruitment, as well as inform.
Sponsorship for the event and sponsorship for funding the award of best PhD poster displayed is also available and we are asking for support of between £250 and £500.  Limited sponsorship packages available, which will be allocated on a first come, first served basis.
If you would like to be involved, to present, exhibit and/or sponsor the event contact Julia Hill at julia.hill@roger-bullivant.co.uk.